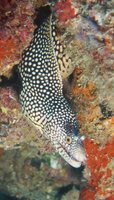 Thursday October 26th, 2017: Diving on two wrecks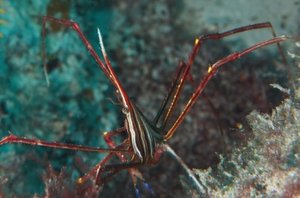 Today day two of the diving with dives three and four. Let's see what it will give today. We get up at half past six, make everything ready, especially me, my camera and stuff and Evy is already setting preparing everything, so she doesn't have to look too long for the swimming gear when she and Arne go to the pool. We leave on time for breakfast and from there we set course for the diving centre. From the large swimming pool at the reception we go downstairs, past all the shops again, fortunately they're not open yet and that's how we reach the beach. We should be able to get here as well. Maybe when Evy does her massage. Then the road goes along the beach to the dive centre that is not yet open. There are eight people to dive today, looks a lot to be on an RIB, but there is one person who comes to cancel and the other two just don't show up, so just like last time there are only five of us.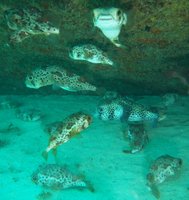 I already know the drill and prepare everything, I help another diver Maarten and then we're ready to dive. Evy and Arne already want to go to the pool, especially Arne, so they leave already. See you this afternoon, darlings. Davi is again the divemaster and he divides the teams: a Dutchman dives with him, Maarten and I together and two British (father and son) dive together as well. Well organised. We get the briefing about the first wreck, but it may change, which will also be the case. Everyone is ready, so we leave for the water while Maarten and I have a chat. We are already on the boat and only then do we realize that we both speak Dutch, so from now on we will continue in Dutch. Everything on the boat, prepare the diving tank and then the RIB can set course for Santa Maria. Just before the coast is the first dive site, Boris with a fairly large wreck. We go into the water, slowly descend to the wreck and then start to discover it. Maarten and I stay a bit behind, because Davi is giving good throttle again, but we are in a buddy team, so everything is OK. The wreck is littered with fire worms, so be careful.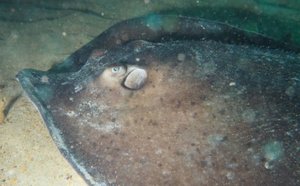 We dive along the shore for a while, we stay about 15 minutes here, so it's a bit too short to explore a large part of the wreck. We do see trumpetfish, some of those crustaceans and this time they are well photographed a couple of times. A moray eel comes out of a hole and then it's time to leave the wreckage. The whole time we hang around twenty metres and dive towards another buoy where the RIB is going to pick us up. On the way we meet a bit of fan coral, a white moray eel, a couple of perches, snappers and that will be it for now. The bottom also starts to rise a bit and that is necessary, because the air is well consumed, and deco is about 9 minutes at a certain moment. A snake eel swims over the sand, we see a few moray eels and so we reach the reef where indeed the buoy hangs. Luckily this isn't very far away. It's a pity that we had to dive over a lot of sand at a high speed, because our air is almost completely finished, when it gets interesting. A safety stop so we had to start at the buoy line and then go up with over forty minutes on the computer. Hopefully the next dive will be a bit quieter and more relax.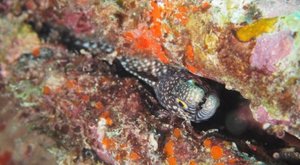 We wait another 15 minutes before the two British guys come out of the water, they can change our tanks already and that's exactly not easy because there are a few that are broken. An interval of forty minutes for us and half an hour for the other two and then we're ten minutes away at the other dive site, also a wreck. A wreck broken in two near a pier and we have to dive in the shaped of the number eight and that is only possible because this wreck is broken in two in the middle. During the short briefing Davi tells us that there are an incredible number of pufferfish, he has never seen as many together as here. Yeah right, we'll see for ourselves. This time it's only about eleven metres and we can see from above that the wreck is broken in two. In one of the first holes of the ship we already see a dark brown moray eel, and two crustaceans and some cleaning shrimps. The red basses with the big black eyes are there again and so are the trumpetfish. We haven't seen a single puffer yet. We dive a bit further, get to the part that is broken and there are already about ten puffers there. Hmm, still not very much actually, but then it comes. Under the sloping hull of the wreck there are dozens of them. You just can't miss it, one next to it, on, among others, really a lot, Davi hasn't exaggerated. Really great.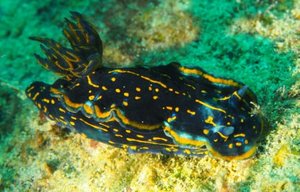 Maarten and I stay together and each see a scorpion fish, I show him a few times a mini nudibranch. He will also think; how does that fool see it. Schools of yellow snappers are here as well, as always appears. But the most impressive thing about this dive site are the pufferfish, really weird. You have to see it yourself to be able to imagine it. I see a huge lizard fish, but my buddies outperform me, because they have seen a mega stingray under a ledge. A few more moray eels and several species seen here and of course that purple nudibranch with white dots: again, great to see them a few times. We dive a bit further between the puffers. The wreck itself is also beautiful, but the best thing is of course the life we see here. Like I said the puffers, the trumpetfish, the different kinds of moray eels, the red bass with the big black eyes. And all this at a depth of about 11 meters at its deepest. This is also clear looking at the air consumption. After an hour of diving I still have 110 bar. Davi calls us all together and tells us to go to the buoy, because originally it was said that the maximum diving time was 50 minutes. We still have some air and there are still a lot of things to see, so actually it is a pity that we have to stop. The instructor goes looking for the last divers while we are almost starting our safety stop and then we can all go up.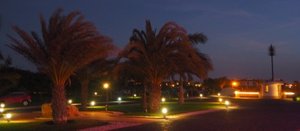 Along the buoy line we enjoy the little white-orange mussels that grow on the buoy and the plastic bottle on the rope and even that's great. A huge group of damsel keeps us company during our ascent and everything goes smoothly. We hang from the rope to the boat, take the ropes from the boat, give camera, lead, jacket and then it's nice and easy to go up along the little ladder without fins. Really a super dive this one, a must for anyone who would ever come here. Only I'm not sure about the dive site anymore, but that's what we sometimes ask. Everybody on board, all ready, putting the equipment back in the nets and then we can start the ride back to the dive centre. We are a bit past Santa Maria, so it will take a little over twenty minutes today to return. The height of the waves will add another five minutes, but in the end we will return to the dive centre around 12:20, just like we said.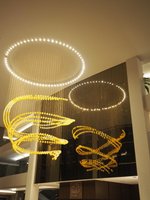 Just let Evy know and then rinse all the stuff so they can hang it up later and I can come and pick it up that morning and then suddenly check out of here. The dives are already done. With a bit of melancholy that we have already come so far, but with a bag full of great memories of the dives I return to my loves, great, back together after half a day apart. And those who thought that this would change after a few years - that we would miss each other so much - are really wrong. Just go into the pool and then eat hamburger with fries. Hmm, if that's not the hundredth time, well, it's a holiday of course, then that's possible. After lunch we return to our sun loungers, which Evy had chosen very well this morning and catch up on the swimming pool and the events there as well as the dives. Again ZEN! Yes! We swim a few more times and go off the slides. In this pool alone, there are four small ones, but really nice. Also, a visit to the large pool, so Arne can show how well he can already swim and then just sunbathe and relax.
Around half past five it's time to return to the room, take a shower and get ready for dinner. Evy has reserved in the two small restaurants near our room 1314, but that's for Saturday and Sunday. We walk to the Spices Restaurant and eat something there. Arne has discovered the ice creams and if he eats well, he gets one. Holidays, huh? We walk back to the room, Arne in the neck and there we watch a DVD and we sit on our balcony, enjoy the music of the Lion King they perform here, write some reports, read a book and then at a quarter past nine we also go to sleep. The heat of a whole day, playing at the pool and diving take their toll today. But we had a great day. Tomorrow another one, but only at the pool and no more dives.