Tuesday September 23rd, 2008: Diving day 1: Ras Amira, Maxwells, Angels Net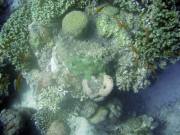 So now we have the TOP-day of our Egyptian adventure at the Red Sea. We go diving! After the snorkeling tour this can only be bad (J, joke). We get up at 07:00, Timo as always earlier, but that is good so the stories get written. We have breakfast, Timo takes an omelet for the first time here and Eef doesn't eat much, because she's not hungry. After breakfast we prepare and wait just outside the hotel. There Robert, the boyfriend of Kelly, the Belgian girl at the reception of Red Sea Waterworld. He takes us to the dive shop and on the road he picks up his girlfriend. We learn quickly we will be only the four of us on the boat. Eef, Timo, Robert and Kelly, who has a day off at that moment. We have the biggest boat for us alone: this is what they call private diving. We pass the customs office to the boat, our gear is there already and we get on for a day of fun. We wait for clearance from the harbor police and then we go. On to our first dive in the Red Sea. The boat slowly leaves the harbor and in about 20 minutes we're at Ras Amira, plenty of pinnacles en a little wall. We had prepared already and were ready to dive into the Red Sea. We're at the dive spot in front of the Hyatt Regency Hotel. It is an overwhelming sight, unbelievable. You dive in an aquarium, even better than in an aquarium. The batteries of the camera are dead, but we continue without camera. Over the coral, fire, table and other kinds swim hundreds of fish. This feeling cannot be described; so much colors, so many fish, so beautiful coral, almost unreal. We dive next to a wall until 100 bar and then we return. We take it siga-siga with the four of us and we enjoy every second. It is so marvelous and overwhelming. The pictures will not be good, because we did not take any. After about 45 minutes we come back to the surface and we are thrilled with this experience. We have a YES this rocks-feeling.
We stay on the surface for an hour, drink and eat a bit and prepare everything for the next dive. This dive follows rather quickly, one hour later and we go to Maxwells. Here we enter the water for our second dive. We sink perfectly, certainly now Timo has taken a kilogram of lead more and we see the same schools of fish, all very colorful, Eef and Timo see a frogfish, the pinnacles are typical here, all small fishes, two different species of sea slugs, coral, sponges. The clownfish is always beautiful to look at and also the lionfish. They hover majestically above the corals. Remarkably the table coral have diameter of more than 5 meter, really marvelous. Also to this beautiful song comes an ending and after 50 minutes we need to surface. But we surface with great feeling; during this dive everything was relaxed and all beautiful. A person needs to see this and be able to enjoy it. Again on the boat remove empty tank and prepare with a new one. Now we stay on the surface for two and a half hours and then it is our last dive of today at Angels Net. A spot with two sandy plates 1 big one and 1 small one with sea grass in-between. Again pinnacles, but we don't get bored. Timo has a bit of bad luck with the camera: first the batteries are dead, then the last two time the lens was damped. The most important thing anyway if the memory. We never dove very deep these dives, maximum between 21 and 25 meters. Also here again beautiful colors of fish, coral. Special species: bluespotted stingray, the juvenile of a emperor angelfish, a complete school of pennant coralfish and then usual species of clownfish, lionfish and lizardfish. It is marvelous, great, beautiful, super. This really is the bet. The last dive was a drift dive, de boat dropped us and returned a bit later to pick us up, but there was not a lot of current, so we did not really drift. At 15:00 we are back in the harbor, leave our gear on the boat and have a drink with Robert and Kelly. Then we take the taf-taf downtown, we buy water and take the taf-taf back to the hotel. After a quick shower we write down all our experiences of the day in the logbooks and the travel report and we stay on top of the world. This is one of the best experiences of our lives. We go to the Al Andalus restaurant and grab a bite. It is the same everyday here, only different names and different music. Today there is a salad and pasta for Timo and a salad and chili con carne for Eef. Then we walk through the hotel garden and come in the restaurant Grotto. Here they're doing local dances and you can smoke the water pipe. It is also here that Kim and Jurgen (Petra) would be, but we don't see them, so we walk back to our room, drink and Egyptian Stella and burn our fifth candle. A week passes by quickly. At 22:00 we go to bed. Tired, but extremely happy of a perfect day of diving.