Sunday September 11th, 2011: Dive day 5: Canyon, Oasis and Coral Garden nightdive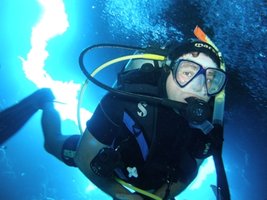 I don't need to describe the morning rituals, because that's the same as always. Today is a bit different. We do wake up and Timo is first, then Ju, breakfast is the same too, but we leave later to the dive center. Ahmed wanted to leave later, because he had special plans. We'll see about that later. After breakfast Timo goes surfing the net. He needs to use the wireless interconnection and the laptop of the hotel: QWERTY keyboard and also Arab signs. Some websites open quickly, others not at all or very slowly. He sends a mail to Veerle and thinks it's about time to see her again: only a couple of days and he's back home. But first enjoy the diving for a few days, then do a day nothing, flight to Schiphol and then home, but mainly first enjoy the diving here in Dahab. Until now it's been very good and hopefully the last dives are the same as the ones we've had.
At eleven we meet at the divecenter, Giedo is already there, we arrive on time and Ahmed is a few minutes late. No worries. We collect immediately our gear and drive to canyon for the first dive of the dat. This will be the second time we dive there, but we don't mind at all. The first dive was here with Ann and Said, maybe we can see other things now than before. It's only a drive of five minutes and we prepare everything immediately and go to the water. Giedo is buddy with Ahmed and Ju and Timo dive together as they're used to. We cross the beach, take mask and fins and then can start the dive. It starts very well, because we see a leopard flounder after one minute already. We saw him before and he's a regular here. Then we calmly continue over the coral, but don't actually see anything spectacular in the beginning. We see that we come closer to the canyon, because we see air emerging from the sand. This is a cool view, probably because so many divers get in the canyon; the bubbles come through the sand and the rocks. We did not notice that the first dive.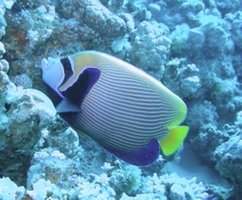 We're at twenty meters depth and enter via a small crack in the canyon. We see there are two technical divers, but they leave when we arrive. The canyon can't hold that many divers at once, so that comes in handy. We descend to the deepest point and check it out. If you look up it is really beautiful. You see the silhouettes of the divers against the crack that offers a safe exit to the deep blue. This view is stunning. At first Timo takes a bit pictures and then Ju takes the camera and take a couple of good pictures of Timo. The bigeyes are swimming together in the darkest part of the canyon and they don't react to our presence. We again see the same things as before during the first dive, but we dive more calmly. We're not staying here too long, because our deco time is already at seven minutes at the deepest. That is also the sign to Ahmed to dive a bit higher and we leave via a small crack the canyon again and then we look into the deep blue. We need to squeeze through the crack, but it works out fine and we don't touch any rock during our exit. It was a great experience here in the canyon. Then the dive goes back to the reef at our right side and we reach beautiful shallower reef tables. Everything goes very well and poses no problem.
Along the reef we see the same images as before a unicornfish follows us and farther another one. It looks like a couple, nice! The image we'll never forget is the number of goldies here that are dancing above the coral. We see this every dive in Egypt, but it's just great. Ahmed shows a scorpionfish on a rock where we do our safety stop and we see a moray eel right next to it. We can't see the head, but it's probably an undulated moray. Giedo and Ahmed already finished their stop and we need to start, so we stay longer, but not too long. The dive lasts for about fifty minutes and that was anyway the maximum in Dahab. We have paid attention where Ahmed crossed the reef to arrive in the lagoon and a few minutes later we follow him. Here Ju spots an octopus and Timo a juvenile of the clown coris. A white fish with black dots at the bottom and a black and orange ball at the top. We check out the lagoon to see more stuff that we haven't seen, but there is nothing special anymore – taking the fact that we're diving in Egypt into account of course.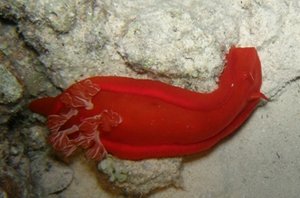 Then it's time to rest for an hour. Ahmed decides with us that we will be diving for the second one at about one. We arrange a late lunch after the second dive, because we still have a nightdive to do. We can't hold on until then with only breakfast. The nightdive is at six thirty, so you can't get anything to eat at that moment in the hotel and we prefer not to wait until after the last dive. We still need some energy. We ret in the Bedouin tent, speak about the first dive and we're glad we did this one, even though it was the second time here. This one was much more fun than the first one. It was at that time the first one of this vacation and went immediately to thirty meters, so we're more comfortable by now. We're just killing time, drink, and then it's pretty soon that we can start the next dive of the day. All right! The material was already prepared, so we only need to put it in the jeep and drive for about two hundred meters.
The second divesite is Oasis and is a place where you nee high tide to enter the water. It's a bit higher than earlier that day, but still not ideal. Ahmed knows that the hotel owners don't want us to enter via the wooden stairs, so we do it the hard way. Everyone takes their tanks and prepares. First Ahmed dives, or better crawls, over the stones and rocks and part of the reefhead and then Timo. When we're almost at the end Ahmed pulls us hard over the reef in order not to cause any damage. We were not prepared that he would pull us two meters, so we were completely surprised. The view under water is fabulous: everywhere you look there is coral fish, coral and fish and as I already mentioned in the most beautiful shapes and colors. All the way down at twenty meters we see two lionfish, but they flee. We now dive to about twenty maximum and are really relaxed, very nice. Then we spot a big emperor fish. Mainly blue with yellow stripes over the body and the yellow tail. Timo still thinks this is one of the most beautiful fish in the Red Sea. Then we see a ray, a leopard torpedo. He swims over the reef and is being chased by a number of seabass who are not really appreciating the ray's presence. They're chasing him away. This dive is really magnificent with plenty of intact coral. Everywhere you look you see coral; there is little sand here, really great. Ahmed has not been lying when he said this is a beautiful site. We start to turn back, but Timo needs to take a picture of an anemone fish with a closed anemone. That's also something you don't see all the time, but it's nice to see it closed. We dive for ten meters over seagrass and look for a seahorse, but don't see one. Bad luck today. At the end of the dive we spot the lionfish again who is being cleaned by a cleaner wrasse and then we ascend to cross the reef. Now it's much easier because the water is much higher now.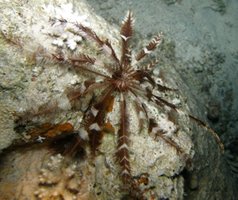 The jeep takes us directly back to the tents of the Bedouins and lunch is served: two pizzas and a tuna sandwich that almost looks like a pizza. We eat it and hope we will not have any complaints because it's quite greasy. For Dahab diving it's already late and nobody is here anymore. Then we load the jeep and drive back to Daniela Village. Although we still have a third dive we clean the equipment. To celebrate this and certainly the first one we drink a Stella. The first one of the day was Ju's dive number hundred, so parteyyy! We're already looking forward to the nightdive and before we know it, it's time to head back to the divecenter. We meet at six thirty and it's already getting dark in Egypt at that time. Tonight Sami is our guide, a freelance diving instructor who is cooperating with Daniela for our nightdive. He does not bother too much about a briefing, because we tell them that in Belgium and The Netherlands almost every dive is a nightdive. Everything ready, into the jeep and then to coral garden. Sami is going to dive a large triangle close to canyon, but not all the way to the canyon and also not all the way to coral garden. Somewhere in between, we'll see what it will be.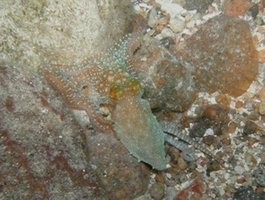 When we get there we quickly check everything and then head for the water with big expectations. We immediately see three lionfish and we need to get back to the surface. Sami tells us that the lionfish will probably will follow us during the whole dive, but we must not panic: they won't attack, only follow us and we only need to see we don't touch them. First thing we see then is a crab with anemones on the shell, it is a hermit crab that carries anemones around and has beautiful green-blue eyes. Then a cornetfish with dark stripes and then we move on to the place where we dive into the reef. Cool. The feather stars are now on top of the rocks and the coral and when we come closer with the lamps they shrink down. Apparently they don't really like that. We're only diving for a couple of minutes, but it's already a nice dive. When you look up you can see the moon in the water, because it is a full moon and small creatures are sparkling in the night. It is sea sparkle. Sami points to a beauty in the distance. It can't be true, can it? But yes, we spot a Spanish dancer, the Hexabranchus sanguineus (literally meaning "six-gills-blood-colored"). Yes, great, marvelous, magnificent: an animal of twenty centimeter. We dive towards it and Timo takes a couple of beautiful pictures. A very nice discovery. The books about it don't lie that this is a beautiful animal. Wow, what a presence. Timo is already very happy and this dive is a winner anyway. A few moments later Timo signals he has seen something: an unbelievably huge stonefish. A large specimen of forty centimeter and according to Sami this is a grown one and a real danger is you step on it.
Sami is not looking at the fish, but is trying to locate where he is, so he can find the stonefish back if he's diving here tomorrow. Stonefish are stationary fish for a long time and this is really a beauty to show to divers. A bit later we see another nudibranch and also a sleeping masked puffer. We don't interrupt the animals and leave them be. Sea urchins are all over the place now and there is a black one and it looks like it has a radar in the middle between the long spines. The dive is very good. We agreed for a dive of forty minutes and time flies, so we dive back into the lagoon. Timo spots a stargazer, also very nice. You can clearly see the shape of the fish in the sand, but only the eyes and mouth are visible. And then the last thing we see on this dive is spotted by Ju: a small octopus. We try to follow it and stay together. On every rock the octopus is, it changes color. He's very beautiful with blue dots, really a nice animal. Sami is already a distance away from us when we leave the octopus, but thanks to the lamps we find him back easily. No problems. Back to the dive center after a beautiful nightdive and two nice finds: first of all the Spanish dancer and then the stonefish.
We clean the gear for the second time today and go for a drink at the bar. We deserved that. We also get some food from the restaurant, but can't eat much anymore and need to leave some food. We could not wait until now to eat and we've had a late lunch, so we can't eat a lot anymore now. We have a couple of beers and the last one on our terrace and need to check out the pictures again of the beautiful red sea slug. This was the catch of the day and maybe of the complete vacation. It's already past ten and after three dives today we're pretty tired. We go to bed and can enjoy a good en well-earned night.