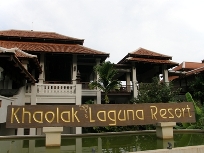 Tuesday March 1st, 2011: Diving day 1: Boonsung Wreck
Today is the first dive day: yes, I have been looking forward to diving in Thailand. The first time here, curious to see what it will be like. And then also the first time to dive alone, that can be very positive for my social skills. Now you need to speak to other people, but that will not pose a problem. Timo is already awake at six and gets out of bed at 06:30, very quietly, because Linda and Patrik are still asleep. Timo takes his laptop to the reception to read the reports again, perform some changes and send some e-mail. There is not really someone online on Facebook now, so he does not stay there very long. A few messages later he returns to the room. Linda and Patrik are awake and Timo packs his stuff (camera, dive computer and other things): the rest of his gear is already at Sea Bees. That was left there yesterday.
First quickly a coffee and breakfast, a couple of pieces of fruit (watermelon and papaya) and bread with cheese. The coffee is very strong and the breakfast is good. The breakfast was also available on the boat, but Timo takes it at the hotel. After breakfast I go to the reception, because Sea Bees picks up the divers between 08:15 and 08:30. Another couple is waiting: a German lady with an Italian guy. Timo can immediately exercise his English, German and the little Italian he understands. Ten minutes late the van arrives and we drive to the harbor, about 20 minutes further. There are in total eight divers in the van, but Timo is the only one diving with the Runaway today, the others go to the SimilanIslands with the Stingray.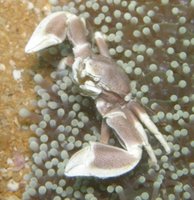 At the harbor it is very busy, there are about seven or eight diving vessels and a bus with a whole bunch of snorkelers are arriving. We need to go against the direction, luckily this is not a one way road, otherwise we would have to make a detour. The reception is nice and friendly, they collect eh shoes, the diving gear is already on the boat and there are only four divers today. Three and I make a normal dive and the other diver takes a few adventure dives, to get to know the specialties that can be done after AOWD. When the last person arrives we can leave. First we climb over the Stingray and then we get onto a small fishing boat, big enough for four divers and two guides and two crew members, but when there would be 12 divers (which is the maximum) it would be a bit crowdy. We prepare our gear for the first dive, everything is present, also the adapter from an INT to a DIN connection of my first stage, which is nice, otherwise there would be no dive.
Then we leave. They explain everything in German, because everyone is German-speaking, except the Thai guide that is Thai-glish. But even the briefing what there is to see and the boat-briefing poses no problem in German. We hope to see some nice stuff, but we'll see about that. After one hour and twenty minutes we arrive at the diving spot (wreck). It is an old tin dredger that sunk about twenty years ago. After the tsunami in 2004 it broke into different pieces and now there are five or six diveable parts. The first dive is the southern part and the second will be the northern ones. According to the briefing there is plenty of fish, but we'll see that when we're under water. On our way there we see many things floating on the water, many wooden things and also bamboo and also small bottles, no idea who throws this into the water.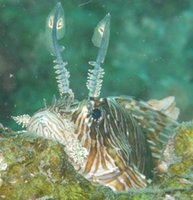 About ten minutes before our arrival we get our gear ready and once the Runaway has reached the dive location, we can start. Timo, Markus and Rolf dive with Bum, the Thai guide. Everything is going OK, only Timo stays a bit behind when descending, but that's always the case: he slowly descends to a comfortable 16 meters. We submerge and immediately see the wreck and notice they were not telling any lies during briefing, because the wreck is surrounded with fish, unbelievable how many there are. Once we reach our depth we follow the wreck at our right hand side and dive to the end. Many lionfish swim here freely or rest on the wrack. We don't dive into the wreck, but just besides it. The guide points out a few things: scorpionfish, lionfish, one stonefish and then he swims away from the wreck. As we are good buddies we follow the guide to an anemone with a few anemone fish and also a couple of small crabs. These porcelain crabs are really magnificent. Then we swim back to the wreck and see a couple of moray eels. They all are spread over the wreck and it's actually loaded. White eyed moray, honeycomb moray. According to the German dive guide, who was on the boat for some adventure dives, Bum was a specialist n finding 'naktschecken', but until now only Timo has spotted one; a beautiful animal.
After half an hour of dive time we reach the end of the wreck and then start our way back, a bit shallower to the boat. One of our buddies was almost without air, but he breathes from the tank of the dive guide and then performs his safety stop. He'll be out of the water after about 40 minutes. The three of us dive further and we see a juvenile of a sweetlip, many glassfish and three moray eels together in a bottle, which is really a funny sight, the three of them in a small bottle, nice and crowdy. On the wreck there is not much of coral, but we see some from time to time and some shrimps have made it their home. Many porcupinefish swim above the wreck and we see some more morays and at the end we spot another nudibranch. Just before we have our safety stop we see a large school of squid, but they are too far away to take pictures. At the end the camera behaves strangely, but we'll look at the later on. The safety stop is also very nice, because we have a view over the complete wreck and the thousands and thousand of fish swimming above, around and in the wreck; really you don't get bored for a single second here, not even during the safety stop.
Then the first dive in Thailand is over and we go to the surface, after a dive time of about 55 minutes. The first dive was a good one; this is something we will remember. When we arrive at the boat we prepare our tanks for the second dive and then have a rest, a drink, a meal and a cigarette. We have a surface interval of 90 minutes and we already chat about this dive and also about other dives my buddies did here earlier. The meal is a plain sandwich and we can drink as much as we like. That was arranged very well, we drink water and cola and need to ensure we have enough. Especially during dive days this is advisable and even more in a climate like this.
Fifteen minutes before we start our second dive, we prepare everything. The buddy-teams remain the same and we first get into the water. We immediately see the number of fish is still the same and we like it a lot. Again plenty of lionfish, three kinds of nudibranches, of which Timo spots two. A couple of species of blennies are also photogenic and it's always nice to see them on a bigger screen later on. We dive along, over and through some of the wreck pieces and the guide points out some interesting stuff, but we also see things of our own: scorpionfish, morays, and a red kauri on coral. And then suddenly the guide points a large moray. He swims freely and that's always a special sight. Lizardfish have also discovered the wreck and one magnificent sea slug. During this second dive time flies even faster, we think the dive is even shorter, but that is not the case at all. Eventually we dive 57 minutes. Just before we perform our safety stop the guide takes Timo's camera and takes a few pictures of him, so he has also a picture of himself. We more or less see the same things during the second dive, but it is a great opportunity to dive here. We are being told that the dives on the Similans are even better, but we'll see about that later.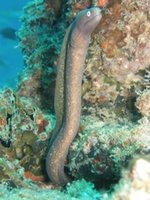 We first look at the wreck and enjoy the view and then head fort he surface, do our safety stop thoroughly and then go all the way up. We take off all the gear and then quickly check out the pictures, have a drink and put all our gear in their boxes. We just are on the boat and the skipper already leave back for the harbor, one hour sailing, we sign the logbooks and stamp them, fill out the most important things and time flies, because we already see the harbor. The fishing boats leave all together to the open sea to earn their money and we can get off on the wharf. Our driver Sung brings us to the hotels, we talk in the van about the dives and dive licenses and other related things and after 20 minutes Timo is already back home. He looks for Linda and Patrik, because they have the bungalow-key. A shower and a break on the terrace with a beer Chang Classic, Product of Thailand and we really enjoy it here with the nicest weather. The sun has returned, because it had been cloudy all day, so enjoy it. In Belgium it's raining and much colder, so we need to get some of the warmth and later today we'll go out to eat.
First Timo goes surfing the internet at the reception, there's free wireless available, then have another aperitif on our terrace and then we go out for dinner. But first we want to book an excursion. We walk along the main road, because Khao Lak is not more than one single busy road. We see one restaurant next to the other, the same with massage saloons, tour operators and dive centers. This is the prime focus of the village. We search for a good tour operator and Patrik had found that Khao Lak Land Discovery (Outdoor Eco Adventure Tours: http://www.khaolaklanddiscovery.com) was a good one and we enter there. For tomorrow we book a trip to a bay close by. A van will pick us up at our hotel, then we drive to the harbor and then we continue with a longtail boat. After these visits we continue with a canoe and then have lunch on a floating village. We'll see, probably is good.
We're late for dinner, so we go to the same restaurant as yesterday. There is still room for three; we order two beers and a glass of red wine. We eat seafood with vegetables and rice, chicken fritters and noodles with chicken. The taste again is very good and not expensive at all. It's really great for eating, all good, fresh, good service and very cheap. We don't stay up too late, because time is already past ten when we get to our bungalow. We have a last drink at the reception and go to sleep at about eleven. Tomorrow we first have breakfast and then at 08:45 we leave for our trip. Good night!