Day 5: Waterfalls Konoko Falls and blue hole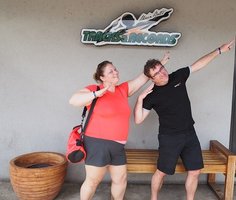 We are already March 14th and time seems to be moving much too fast here but isn't that always on holiday. We get up and take it easy this morning. We still have some time to get ready, because today we go on a half-day trip to Blue Hole, Konoko Falls and the botanical garden. I only understood that the botanical garden was included, during the excursion itself, but it turns out to be at the Konoko Falls. We have breakfast, go and have a look at the Sports bar to see if there is something to take with us, but that is not the case. Apparently, a lot of people and especially Americans have a hunger at night and they can find something here. We finally go first to the room after breakfast to prepare everything and then we visit the restaurant for 2 croissants and 2 bananas; there was not much more at that time. And then we have to wait for our bus, or rather wait for fifteen minutes for our van. From here Casy and Glenn take us to two other hotels to pick up people and we pass through Ocho Rios in the direction of Blue Hole.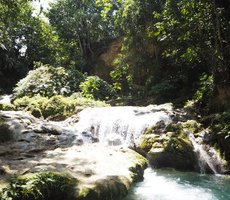 We also hear some nice facts: the hummingbird (which we just saw in a tree on the side of the road) is the national bird of Jamaica, the jerk chicken and jerk pork is the specialty, but the national dish is "Ackee and saltfish". The ackee is a kind of apple and is poisonous, so they have to do something with the fruits to get the poison out. The saltfish is a salted Canadian codfish and together they form the national dish. Lignum Vitae is the national flower, tree of Jamaica, also called guayacan and so we get some more information. The blue-white building in Ocho Rios is the only free all-inclusive in the city, with a funny reference to the prison. Here they also have the Keep From Cooking (KFC), with chicken as a specialty. We drive through Ocho Rios and pass Turtle River Park. Jamaica is so green because of the many rivers, on this small area there are about 122. There is also a large part dedicated for restaurants only as being Jerk center. It seems we must have tried that. Then we make a stop in the house of Usain Bolt, transformed into a bar and a shop.
We are guided into the tourist stairs, but we have to, because we have to buy a pair of waterfall shoes for Arne and myself. We can't find anything for Arne, because the smallest sizes are 4 (American) and for me they do have waterfall shoes. We also buy a T-shirt for Evy and a magnet for Arne. We have to pay at the bosses of the shop and they are Indians. Well, here too they set foot on land. I would have preferred to support the local population rather than immigrants, not against people who immigrated, but my preference would be the locals. They first charge 4 USD too much, so I correct them and pay 34 USD for everything, but the MasterCard is not accepted especially because there is no communication and no battery, so cash then. Rounding off at 4000 Jamaican Dollar (JMD), so converted to less than 30 Euro; it's difficult with all those different currencies.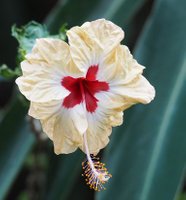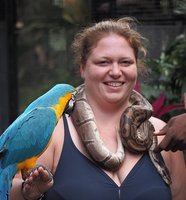 Then we leave to the first stop: blue hole of Island Gully Falls. There we have to make sure that we are quickly dressed, quickly sign something that will cancel out all responsibility of the owners. Everything happens on your own responsibility. Well, we'll see what happens later, but Evy signs twice and I for myself. Normally it shouldn't be a problem. They promise us that there will be no injuries. We are curious if this will be the case. We get off the bus, everyone is getting ready for the walk downstairs and back upstairs. First, we have to climb up and down a wooden staircase, then it gets a bit slippery and we have to go up along a rock face to the first plateau. Here we can jump from a height of three meters, but for Arne that is a bit too high, maybe within a few years. Now he jumps from a piece of water a meter above the water and flows towards me. He wants a second and third time and then we go to the next basin.
The turquoise water with the green nature around it, the hummingbirds that fly in the treetops and the white of the flowing water of the waterfalls, really is a wonderful sight. A little further there is another place where we can jump, now about five meters, so we don't do this either, but we do have a meter of water to float to the shore. I always go first, then Arne and mum have been in the water twice. She prefers to sacrifice herself to keep the drybag dry. In the water it wouldn't last, when it's completely submerged. Thank you, Mommy. The last obstacle is the highest and this is finally what they call the blue hole. Here you can swing with a rope to the middle of the pool, but also here we keep it safer and less high. Here is also the highest point where you can jump. Some do it, but we don't dare to do it. When we've done everything here, Arne wants to go into the beautiful blue water and we'll do it just before we leave.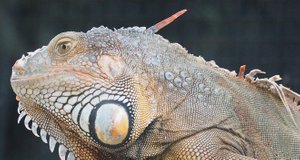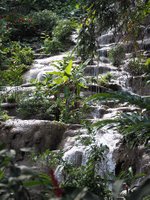 Then we walk back upstairs. There we get ready to go back into the van, dry off, drink something and catch our breath. Arne had a great time and so did we. And then suddenly someone knocks hard on my shoulder: Yo man, don't forget your guides, you should give your guide something, man. He really hit my shoulder hard and I didn't like his tone, so he doesn't get anything from me. Whether it's 'this is how we live man' or not, that could be better and less arrogant. Evy then gives him 200 JMD and according to him that turns out to be too little: well, then you can forget about it, dude. Then we'll just don't give you anything, just because you annoyed us. Ya man or no ya man. Helped us or not and extra service for Arne or not. Something politer is always possible. We don't pay any attention any longer, so we get on the bus and then to Konoko Falls. The road runs along a wooden tube that brings the water to the village and that tube doesn't really look high tech. On the contrary, just simple, some curved slats next to each other to form a tube to bring water to the people.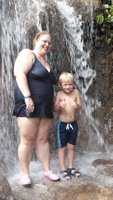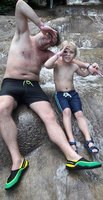 We drive back to Ocho Rios and then into the mountains to the Konoko Falls with the botanical garden. First we have to go back on a narrow road and finally we have to stop at the waterfalls, but first we go to visit the botanical garden. Arne and I have a small bite to eat and then we get information about the trees, the flowers, the birds that are all here. We also see a huge spider: golden orb spider. I know it from previous visits to Central America. We all have this information and then we pass a number of cages with wild animals: iguanas, snakes, crocodiles, turtles. One of the men comes along with a macaw and a snake. Those who want, can hold it for a while, some only want the bird, others like my sweetheart are more courageous and hold them both. Then we move on to the other animals and then we take a long staircase down to effectively start climbing the waterfalls. From below it doesn't really look feasible, but terrace by terrace and spring after spring and cave after cave we do get there anyway. It's a good thing we have those shoes, because without them it wouldn't be possible.
The normal lens of the camera is now broken, so the pictures are partly taken with the zoom and with the mobile phone. We'll see what goes wrong this evening. Not much fun for the next dives but we'll see. We stop a few times and sometimes we really have to climb up on all fours, but that's more of a problem for Evy and me, because Arne just races over the terraces and the rocks. Every now and then we look up and down. When we look up, we see that we have to get to the house upstairs. At first it seems far away, but after only ten minutes we are halfway there. We enjoy the walk and the climb, but we already know that we will be tired this evening. Without any harm we get upstairs and enjoy the view that we have conquered these waterfalls. Then a few more steps down and literally the last two meters I have to decide to slip and fall down. Luckily it's no big deal: a big scratch on my calf and a sprained little finger and we're off the hook. Then a very last stop.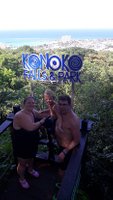 We still have one more point of view: a view of the city of Ocho Rios. Just a photo moment and then we get back to the bus. They playfully said something about the guide and they get 500 JMD per person. Those two arrogant **** (tuuts) this morning would have gotten more if they had put it this way. Then we all get in the bus and are brought back to our hotels. Our hotel is second in line and then we can lie down at the pool, drink a cocktail, have a swim, or rather bathe, then at half past five we go to the room, take a shower, take care of my wounds and after that we go to eat and go to sleep. It is very tiring here. We wake up early in the morning and go to sleep early in the evening as well. The last night is, I think, the night we arrived. Charging flash batteries is not possible, because the charger is broken. Meanwhile, camera is okay again, but no batteries for external flash. Tomorrow we'll see if I can find any batteries here. So Arne watches a DVD, then we go to sleep and around nine o'clock we go to bed as well. Hopefully good for a good night's sleep.