Saturday November 2nd, 2019: Early morning dive, relaxation and snorkelling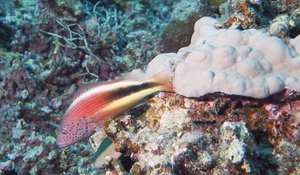 At a quarter past five the alarm goes off, wow, that's early. Yes indeed, but this time I hope to let both my love sleep, because last time Arne was awake and Evy hadn't slept either. I leave when everything is ready and walk five minutes to the dive center, or even less. Fouad had given us a good central room close to everything and therefore also close to the diving centre. I'm the first to be there and watch a movie about the different dive sites here. A German couple arrives as well and they've been here a couple of times, so let's talk about the fact that it's not so bad here after all. I'm getting ready and then Michael arrives and so does Jens. We get a briefing from Tamer and that's actually short. The northern jetty, depending on the current north and south or just south to the other jetty. And then: I hope you see something nice! So much for the briefing. We walk to the jetty, have to look for the key to open the gate and then we can put on our fins, our weights and our jacket. Great! To the end of the jetty and jump.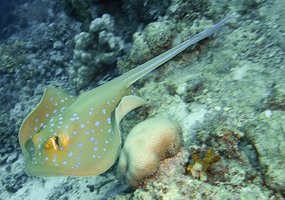 I jump just before the German couple and everyone is waiting so that we can do the dive together and have seen the same thing. The pace is slow, not too deep, just always between twenty and fifteen meters and so we float along with the current to the southern jetty. The fish as usual come to greet us. A few mega-sized groupers swim right in front of me to the reef and continue their hunt there. They won't be deterred by my presence, so photo time, really great how close they swim to the lens. The same with two large red sea bass and also with a pair of bannerfish. Such an early dive in the day is always better in life than an ordinary one during the day, unless you see special things of course. There are four rays with blue dots and they also stay in place for a long time or change to an even better position. I try to take a picture closer and then it swims on to the other divers. The red sea anthias are also present in thousands and that is always wonderful to see. A moray eel comes out of the deep and swims over the reef and we can easily spot it while it swims up. Then I turn back to the right direction and suddenly I see three tuna passing by at a mega speed. You can clearly see that they were built for this kind of work. A whole swarm of blue triggerfish follows us for a long time and even past large perches that like a triggerfish anyway.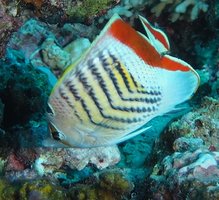 Lionfish, coral climbers and a peacock worm and so we dive on at a slow pace. I still see a bit of red soft coral and then we are already diving in the direction of sixty minutes. We just see the stairs appear and then we know that it's almost over. There were no requests for air on the way, but I still have 80 when we get out, so that's a good dive. Just before our safety stop I see a nudibranch, the same as on Zerib Kebir and a lionfish floating beautifully against a blue background of the Red Sea and then it's three minutes at five meters hanging and trying to climb up. Fins out and on our wrists and then to the stairs. Wow, that's not an easy task right now. The waves collapse with a mega force, that I first have to hold my arm around the banister and then I have to put my legs around it, because my arms don't have enough force. That was just as exciting, man. We all get to the top safely anyway, so that's pretty much OK. Nice dive, nothing special seen, but still nice to finish with seventy minutes. We walk from here for ten minutes to the dive centre and then I rinse my stuff very well, because the salt has to be removed completely now. Now it is time to take it home, so that has to be OK.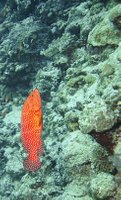 Back to the room and on the way Arne meets me: he missed me. Quickly in the room a few things in order and then have breakfast. That will taste good after such a dive. I take an omelette and just when mine is ready, Arne asks if he can get one too. An egg, scrambled without vegetables. That goes quickly in between without any problems. Then some sandwiches, cheese, cucumber, tomato for me. Arne, as always, takes a couple of croissants and a couple of coffee biscuits, delicious but very sweet. Evy takes it too and all three of us enjoy an extensive breakfast. Still with a nice coffee and a fruit juice, we really enjoy it very much. We're in the right place, we don't have to do anything special anymore, so after an hour of breakfast we go to the swimming pool where we've spent the last few days. A bit of swimming, a bit of rest and by 10 o'clock mommy goes to the spa and we swim some more, snorkel a bit and then it's time to rest again.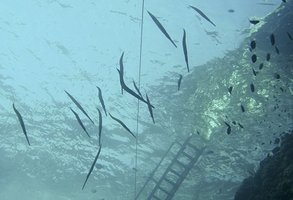 After the rest it's time to go to the other swimming pool with the big rainbow slide, because it looks like the little one won't open anymore during our stay here. They have already cut away some tiles in a few places and are now working with a drill a bit, so we suspect that there is more going on than just yearly maintenance. Maybe next year we'll see what's changed. So we go on the rainbow slide, but also on the blue one next to it. Time flies and there is not much to change. After the third or fourth time up and down I notice that Evy is already back, so that means that it is almost twelve o'clock. We come back to our sunbeds and Evy wants to cool off in the water. Then we can go to lunch. We walk to the reception and take the little bus to the beach restaurants. Enjoying our lunch and then it's to the large pool near our room in block 18 and cool off a bit. We try to convince Arne to come snorkelling with me. Apparently you can always swim and snorkel in the small rectangle close to the beach, even with a red flag. We do wonder how this came about: of naturally, or they got rid of the reef to be able to swim and snorkel here.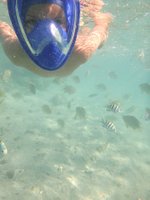 In the end we almost force Arne to come along. He doesn't want his fins on, but he does want his new easy breath snorkel. Then bam, head under water and shoot. I have to be quick to keep up with him, so looks like he did not find it that bad after all. From above we already saw fish, but we couldn't see which ones. White fish with black stripes and yellow fish with stripes. We see long narrow ones on the surface and slightly rounder ones on the bottom looking for food between the sand. We see sergeant majors (grey with yellow and black bands), mask butterflyfish (yellow with black stripes), trumpetfish on the surface, really enjoying themselves. Arne's fingers point first to the left, then to the right, then in front of or under fish: I think he likes it. He also loves the Red Sea doctor fish and Arne swims to the reef - or at least what remains of it here. Arne's finger goes to a snake-like thing on the edge of the reef and it's a fact: he's seen his first moray eel, a snowflake moray, blessed! Of course I take pictures that this is documented; we even take a snorkelfie (selfie of snorkelling people). Then we see a few rabbit fish and a few wrasse. Arne especially likes the Klunziger wrasse, but of course it is difficult to catch them on camera, because they never sit still. They are not shy, because one of them swims between my face and the camera. I enjoy myself super!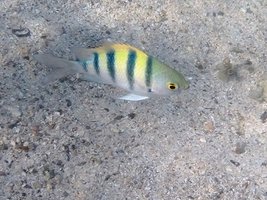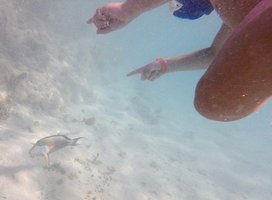 Then we stop, we've done the width and length about three times and then we return to mommy. Evy immediately sees that we come up as two happy children and that it was great fun. We tell her about the fish and the moray eel and the snorkelling, rest a bit at first, then go for a swim and then we have an aperitif at the beach bar. A gin tonic and a cuba libre: sit down, we'll bring them. OK. So we enjoy it. With the second aperitif we go pétanque and all of us win a couple of times, really big OK. We already promised yesterday, but thought about it too late, so we do it a bit longer today. A third aperitif and then to the room to take a shower and get ready for dinner. We have a voucher for Arne's birthday, so after dinner, we go and get Rabi, Rafa and the other waiter and then they come to Happy Birthday to go for our six year old: actually two days too early, but that's OK. Then they sing in Arabic and then a table behind us puts another full "Herzlichen Glückwunsch" in for Arne. Just enjoy, then eat cake and then continue playing Uno. Someone is super happy. To the room, usual things and going to sleep on time.