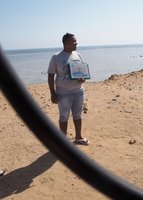 Tuesday October 23rd, 2018: Dive morning: The Cave and Sheikh El Malik
Today is the dive afternoon. Yesterday I signed up for two dives. The first for the dugong and the second for a cave. Apparently things will turn out differently, because we do the two dives in reverse order. The first task today is breakfast. We don't have to hurry, because the departure of the dive is only around 08:45, so a quarter of an hour earlier there. Breakfast goes smoothly, I never eat too much just before a dive. After coffee we fill up the water and make a sanitary stop. Then we can continue to the dive centre. There are already a few people from our dive, but the majority is there for a half day boat. They leave just when we arrive, not badly arranged. I soon start measuring my two tanks in terms of Nitrox, because that is important. Everything is OK at 30%. Tanks ready, box 56 ready, so I can sit with Arne and Evy. That is of course important during a holiday together.

Ten minutes later there is no one left, because then we leave for our first dive site. We start with The Cave; also logical because it is the furthest and then we come back for the dugong on Sheikh El Malik. All of us get on the bus and off we go. In about half an hour we are on the spot and we can quickly get ready. Everything is already on three large carpets, boxes open, everyone ready for the briefing. We dive through the canyon, then to the south, back a bit later and then make sure you have 60 bar when you enter the canyon again and get back to your departure point. I dive together with Carsten, because the other six are each with two. Just a quick introduction and then over the reef to the starting point. First of all we did everything, did a quick buddy check and then we can go to the place where we have to go in the water. It's a walk and again it feels weird when I get wet when I get into the water. Normally with a dry suit you don't have that. We all get some help with putting our fins on and then the dive can start.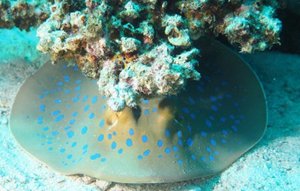 We are lucky we don't see any other divers, because just before us many divers started. If you encounter them here in the caves, you may have a problem. Best to give priority to those who come back from the dive. The view in the caves is bad, really a thick yellow soup you can hardly see through, hopefully it will be a little bit better. And indeed, once you come out of the caves, the beautiful blue of the Red Sea is back. We immediately see many of the typical reef fish hanging around the coral and it is again a great sight. That's why we do it. The butterflyfish, the big and small basses, really great again. We see a few rays, yellow with blue balls. I find it strange that sometimes you don't see them in one dive and at the other dive site they suddenly come with dozens of them swimming, just like here. We dive until someone has 100 bar and that is at an acceptable time. When we turn around my buddy has 150 and I have 130, so that's okay. We turn at a big rock and there are a lot of glass fish, the small and the big ones, really great. You can almost see that they move as a whole.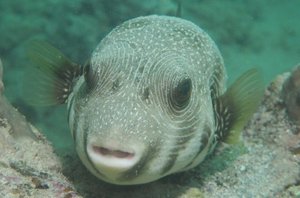 The way back has started and we return the same way but a bit shallower. We just follow the others, although we always hang a little behind the group. The guide is not charged extra for this, while the day before yesterday the guide would have to be paid. We dive over the reef and actually see the usual for Egypt. So far no nudibranchs, but there are less of them in Egypt anyway. We're still the last to dive and we just see a few divers entering the cave where we left off. I think we would have found them otherwise, but that's easy. We dive back through the soup and dive high up against the ceiling of the caves, so we have already done a large part of our safety stop. At the end we add some more, take some pictures of a pipefish and a puffer fish, it's really wonderful here. It is also much warmer here than outside the cave. Safety stop made, so to the feet of the guide who is there to help us out of the water. We still have to make our way back, while the others are already back on the mats.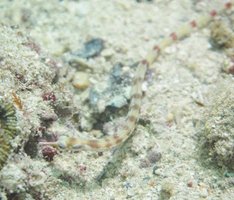 Quickly undress, towel around us and then everything back in the boxes, boxes in the pickup and then to the other dive site. There everything is prepared again while we get a briefing. It took fifteen minutes to take off our equipment, fifteen minutes of driving, ten minutes of briefing, then fifteen minutes of putting everything on again and then a large part of the surface interval is already over. Nice and easy. The intention is to see the dugong. We go into the water at a similar place as the previous dive, although there was a cave there and here we just have an open reef. We dive along the reef and just follow the guide who constantly makes noise to lure the sea cow. Irritant, but if it helps... We see a super nice reef, but we don't have much time to spend here, because the dugong is calling. I didn't hear anything, but that's it. The first thing that strikes us are the mega, many shells that grow in the reef, really fifteen giant clams in a piece of coral, unbelievable actually. The fish worth mentioning here is the halfmoon angelfish and a beautiful specimen here. Super.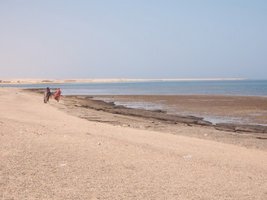 Then it goes in the direction of seagrass. A large turtle with a few remoras and lots of grass and sand. Then suddenly the guide signals that he hears the sea cow, but I don't care. I want to see them. That's the second time I've dived here and I have to see them now anyway. Or not. No guitar rays either. A second turtle, or the same as the first one, no idea really. We dived a bit in a circle, but it doesn't make much sense. Seen a lot of grass and sand, two turtles and a nice reef, but we couldn't see enough of that. The end could have been better, but that can happen, the first dive was beautiful. Carsten and I have to go above the water to see where to get out of the water and stay at 5 meters with 60 and 80 bar and dive westwards, because there they are. We find it without a lot of problems, because we both have a compass, so that's a good idea. The first time a compass is really useful here. Again we are the last out of the water and today we hung under water for two hours, so despite the fact that the dugong didn't show up, it could have been worse.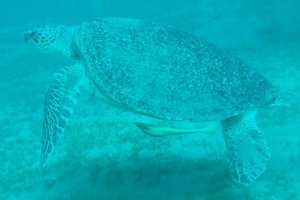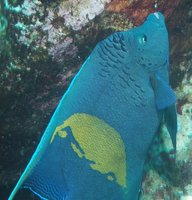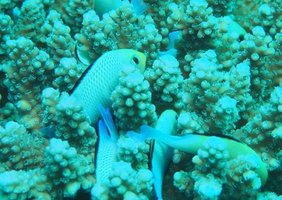 Everything on the mats back in the boxes, I already put on dry clothes and then we can take the bus back to the hotel. We will be there twenty minutes later, but that is our own fault, because I think both of us have dived more than twenty minutes longer than the others. So we enter the bus, wait two minutes for the diving gear, rinse quickly and then go to the restaurant where Evy and Arne are already waiting for me. Something to eat and then rest in the room. It is warm today, not to say hot, and then a short nap can do miracles. So after the nap we go back to the pool, play some games. Arne especially with his friend from Poland and his dad. I try to give his dad a bit of rest too, but apparently the boy prefers to have his own dad or mom to play with. Then it's time to return to the room, take a shower and prepare dinner for the evening. Sometimes I think we don't do much more here than sleep and eat.
We enjoy dinner, drink a glass of wine and especially Arne and Evy are going to have another dessert. I limit myself to a few glasses of wine and the usual food, that will have added enough kilos within a week or so. But we can only enjoy it and in the end we also move around a bit here. Arne still moves a lot, because it's children's disco again for half an hour from half past eight. Then we go to the room, Arne straight to bed, we write, read and sleep.